Th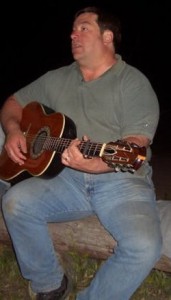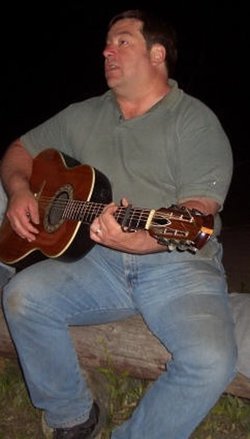 e first book Mark Rounds read, other than "See Spot Run," was "Rocketship Galileo" in the second grade.  He was restricted from the library in the third grade because it was such a wondrous place that he forgot to do his "real" homework.  Things haven't changed a great deal since then.
Mark has been an Air Force officer fuzzing radars in B-52's, a bouncer in some of Spokane's least classy establishments, a consultant dealing with information technology, a geek in a cube in a couple of .com's, a folk singer, and is currently faculty at the University of Idaho in Management Information Systems.  He has published papers and conference proceedings on the subjects of Geographical Information Systems and Grizzly Bear Habitat, and is currently working in Computer Security.
Academically, Mark has a BS in Computer science from Montana State University in 1978, MBA from University of North Dakota in 1985, MS in Computer Science from Washington State University in 2000, and a PhD from the University of Idaho in 2014.  Mark has promised his wife that he will enter into a 12 step program to kick his education habit.
When he was younger and perhaps more foolish, he competed as an IPF power lifter and has a first ascent in Glacier Park on Red Rock Point.  Mark's current hobbies include Civil War Reenacting, reading, folk guitar, competing in Practical Pistol meets, and cooking gourmet food for his wife of 35 years and 3 kids.  Mark is also well known as a gamer, presenting miniatures and RPG games at area conventions lo these many years.
Hell is Empty and All the Devils Are Here is the story of C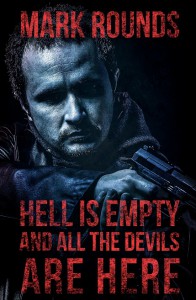 had Strickland, his family and friends as they try to survive the onslaught of a virulent plague. The setting is in the near future in Central Washington. Chad and Mary Strickland, along with their neighbors, Dave Tippet and Heather Tunney, band together to protect their children and their way of life. Along the way, Chris Vaughn and Amber Hoskins join their group as they are hounded out of their homes and forced to go on the road to escape a gang of infected bikers led by Special Agent Macklin who is in turn part of a bigger plot to overthrow the US Government and take control.
Book 2, At This Hour, Lie At My Mercy All Mine Enemies, continues the stories of Chad and his fellow survivors of the mysterious plague. This Thing of Darkness, I Acknowledge Mine is the third installment. Commonality Games is a stand alone story about military cadets released from training with no prospects except the dole who change their future by participating in live fire games in a holodome for entertainment. Find all of these on Amazon.com.